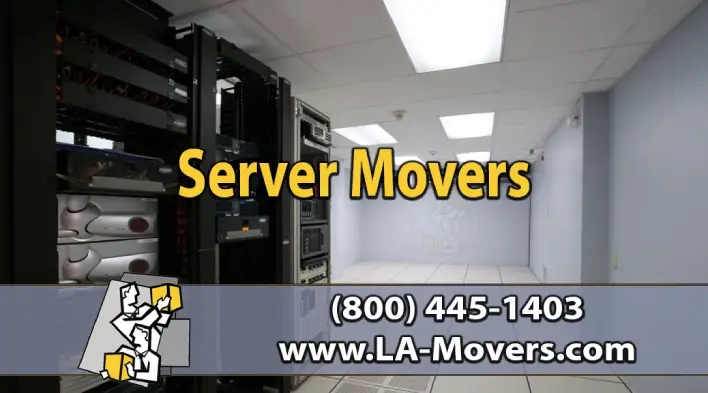 LA Movers has specially trained server movers to help you relocate all your electronic equipment, such as laptops, servers, computers, desktops, and workstations. Our server movers understand much of the finesse involved in moving your server rooms, as well as office furniture and cubicle re-configurations.
As such, many of our server movers also possess outstanding experience moving and relocating offices in addition to the extensive training received to relocating server rooms and electronic equipment. Our server movers will move your server rooms, computers, office cubicles and tables, as well as any other electronic equipment quickly, safely, and efficiently.
When you call us and set up for a free on-site visual estimate one of our move coordinators will be dispatched and meet with your project manager/supervisor and conduct a free on-site visual estimate and develop a strategic approach to your move to minimize downtime. We strive to make sure we get your business functional again as as soon as possible.
After the estimate our server movers will come in at the predetermined time and immediately start working on your server room needs, working tirelessly to properly cover, wrap, package, and load all your electronic equipment onto our trucks and transport them, whether they be computers, monitors, laptops or anything else.
Once all valuables have been moved, our team works endlessly to unload them with the same efficacy and accuracy when they were first loaded. They will unpack and move all electronic equipment as designated by you accordingly. Once everything is finished, our professional movers will also take care of any trash and other recyclables you may have.
In addition, if you have any questions or would like to know more information, check out our other affiliated pages for more information, or call us directly.
As a courtesy, LA Movers is happy to offer a printable Server Relocation Checklist for you to download as a PDF.
Our clients in this realm include companies such as Google, Napster, Yahoo, and Sony, as well as small insurance agencies and other various firms. We have invaluable experience in handling electronic equipment including computers, servers, network installations, printers, copiers, phone / data switches, laser printers and peripheral equipment utilizing our trained professional personnel. Our server moving company is based in Los Angeles, California and we provide our Data Relocation services in all of the West Coast states.
Server moving, data center relocation and migrations just got easier. (800) 445-1403
Several movers are available in Los Angeles, Ventura, San Bernardino, Riverside, San Diego and Orange County. Cities We Cover in Los Angeles, CA for all your server room installation and moving needs:
What sets us apart?
Have a things to be done?