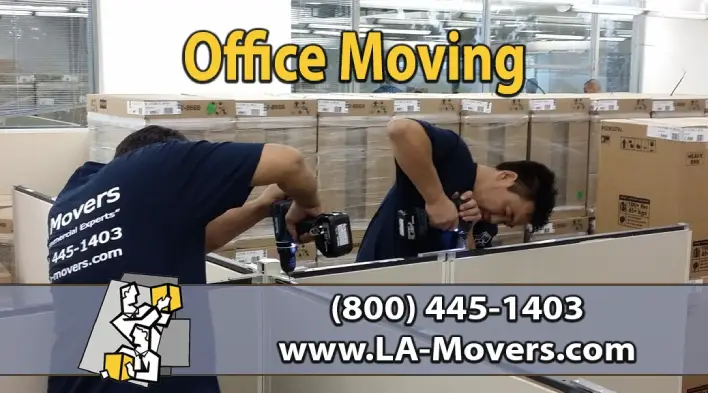 Local office movers — LA Movers has the expertise and specialized knowledge necessary for relocating an office, manufacturing facility, warehouse, or any other commercial workspace. So many people who are looking for office movers and packers in Los Angeles come to us. Our team of expert office movers will ensure your corporate relocation is safe, prompt and efficient.
When you and your company decide to relocate an office workstation or a warehouse facility, LA Movers can help you from the planning stages to the delivery of the final piece.
Los Angeles commercial movers are the office moving company specialists for all of California! We can help you move your entire operation anywhere in California to all states. As a part of our white glove office moving and installation, we handle absolutely everything from initial walk-throughs to final inspection.
We provide experienced supervisors, a professional moving crew, as well as commercial moving vehicles and equipment. We finalize with additional support that doesn't stop until every detail is accounted for.
Hiring Office Movers in LA just got easier. Please provide the details of your upcoming move (addresses, access, list of items, special requests, preferred date(s) and time, COI requirements, etc. You may call us at (800) 445-1403. We are open to take your calls every day of the week. Or send us the email to info@la-movers.com.
Los Angeles Office Movers Success Stories Spotlight
Thank you so very much for doing a fabulous job on our entire event coordinated moves. Your management team is easy to work with and has managed to cater to all our wants and needs.
Chateau Marmont Hotel - Sunset Blvd
Thanks again for your excellent assistance on this last "very last minute", moving experience for the VOGUE party. I certainly could not have done it without you!
The Promotional Edge, Inc.
Your crew was not only on time, but showed up early… That's always a pleasant occurrence in L.A.! On top of their efficiency, they all displayed a continuously nice and friendly attitude, worked diligently, and in a timely manner.
Thank you very much for doing a great job on our huge office move. Within the three days of the moving process, your guys took into account all of our furniture whether it was for the executives or the assistants.
The packing process was very good, the TV's and computers were nicely bubble-wrapped and handled with care. Your movers were always on the move and never wandered off or nothing was missing. We will definitely use you guys again for our business and personal needs.
Thank you again.
Ray P.
CSI Miami / CBS Productions
original document
Have a things to be done?