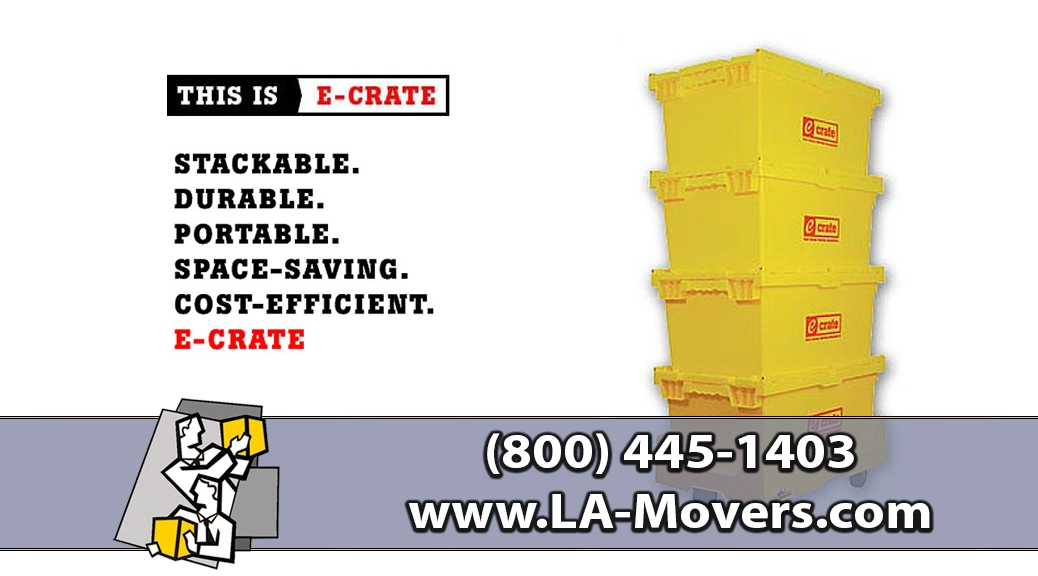 E Crate Plastic Containers | Ecrate Plastic Containers Los Angeles
E-CRATE or Ecrate is the most economical solution for all of your moving and storage needs.
Office and Industry moving doesn't get any easier than moves using E-CRATE.
Constructed from pure, durable, injection molded polypropylene, E-CRATE is built to last.
Whether you need 100 or 1,000, we can fulfill your order within 3 business days.
Call today! (800) 445-1403
ECRATES are reusable plastic containers that are easier to use, significantly less expensive and more environmentally friendly for commercial or residential moves than traditional cardboard boxes.
Incorporating reusable crates into your business is an important step towards becoming a greener company. ECRATES offer the following advantages:
Reduces the number of truckloads necessary for your move, the number of trucks on the road and the amount of fuel burned.
E-CRATES are made from 100 percent recyclable plastic; thus, dramatically reduce the amount of carbon contributed to the atmosphere.
Using reusable crates can save you up to 40 percent off the cost of your move with fewer units, less labor and fewer truckloads needed – resulting in lower overall costs to you and carbon emissions from your company.
Contact us to learn how our Green Solutions can help your business or agency become more cost efficient and environmentally responsible.
COST SAVINGS
Cardboard boxes cost a great deal. E-CRATES offer a smart alternative that enables you to:
The ECRATE increases truckload capacity by maximizing available truck space; thus, reducing the number of truckloads needed to complete the move. E-CRATES are larger than boxes so you will need 20 to 50 percent fewer crates than boxes reducing the number of truckloads needed by up to 40 percent.
REDUCE LABOR COSTS / AVOID ACCIDENTS
The E CRATE and dolly system enables you to stack more at one time and eliminates dolly-up/dolly-down time, reducing the number of trips it takes to load your property, as well as the time it takes to pack up.
The E CRATE and dolly system eliminates heavy lifting from the moving process, helping to reduce accidental injuries.
E-CRATES are sturdy, reusable and virtually crushproof, ensuring protection of your property every step of the way.
The security of your confidential files, contents and computers is our top concern during your move. We want you to rest assured that your personal property and information are safe and secure.
ECRATES are virtually crushproof and protect their contents from external damage or intrusion.
ECRATES are lockable, increasing security for sensitive material.
We provide a timely delivery and pick-up service directly to you, with 24 hours notice or less, making it easy and convenient. E-Crates are delivered and picked up on a predetermined schedule, eliminating storage costs, employee downtime, workplace disruption and clutter.
Our full line of products can be customized to fit your company's needs to ensure a smooth and successful move every time. To start, call us at
(800) 445-1403
or Email us at
info@la-movers.com
Have a things to be done?