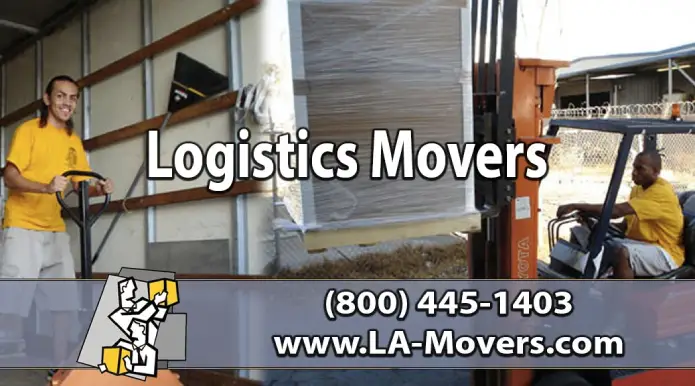 Logistics is the complicated organization of a business, military, or any other activity so that it happens effectively and successfully. Logistics companies plan, implement, and also control the storage and movement of goods that you are moving from one location to another.
It is one of the services that you will get at LA Movers as a leading logistics moving company. We will help you plan and organize for your trip in the best way possible.
In moving most manufacturing facilities, logistics is of the utmost importance. In relocating tool cribs, stock rooms (palletized and non-palletized), and inventory, we know minimizing downtime and coordinating the reconfiguration of these areas is crucial. That is why you need logistics moving services from the beginning to the end.
We strive to be the most reliable logistics movers LA day in and day out. Our amazing customer service will make you feel at ease each step of the way. The most popular services that we offer alongside logistics moving include;
You will get logistics moving services in relation to all these moving services that we offer to our customers. Our professionals will serve you whether you need commercial, residential, or industrial moving services. Here is an overview of some of the services that we offer as a company;
Use our commercial moving specialists to co-coordinate the timely relocation of your business. We have the best specialists when it comes to commercial moving in Los Angeles.
LA Movers has a trustworthy team by your side that will ensure privacy and safety of your personal belongings. Your belongings will be delivered safely to your new home as long as you use our professional services.
Execute a worry-free and swift moving process with the help of accomplished long-distance movers in Los Angeles. We have a very high level of expertise when it comes to long distance moving.
Avoid property damage, wasting time, and avoid injuries by hiring our skilled packers and movers. If you want to get the best parking services in Los Angeles, all you need to do is contact LA Movers.
Declutter your business premises by placing some of your belongings in our secured and clean storage facilities.
When looking for someone to help you with your moving logistics in Los Angeles, just know that we are the best brand. Several companies offer similar services in the region but we come out as the best brand. The moving process is stressful but we make it flow seamlessly.
We guarantee you high quality logistic moving services at the most affordable rates in the region. Besides, you can be sure of high levels of efficiency in service delivery.
To get your free quote , call us now at (800) 445-1403 or email us at info@la-movers.com.
You will meet a diligent customer support team that will be happy to tailor a solution for your unique needs.
Have a things to be done?