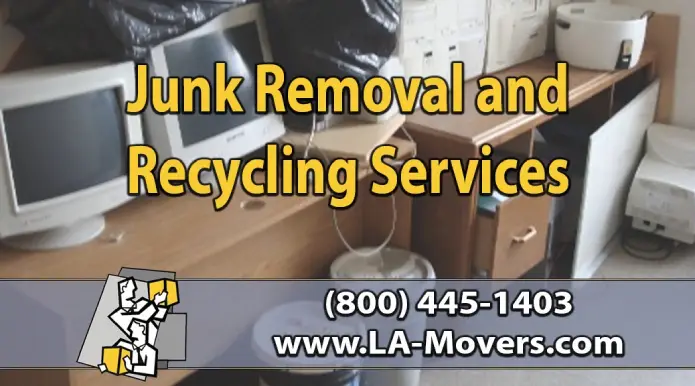 Are you preparing your house for the upcoming move? Decluttering the unwanted junk from your home? Cleaning out your estate or office, LA Movers is here to help you take away that unwanted junk.
The beauty about our company is that we carry out this task in the most responsible way possible. We provide easy and fast junk removal services for all your junk hauling needs.
Our team has a deep understanding of junk hauling. The company proudly offers the best junk recycling and removal solutions for your office, home, and beyond.
The junk removal experts are eco-friendly and will remove all the non-hazardous items from anyplace on your property. It includes down in the basement, up in your attic, and even outside in the backyard. We aim at disposing the unwanted debris and clutter in a responsible manner.
Professional and Insured Junk Removal and Hauling Services
Our junk removal solutions go beyond just taking away the unwanted items from your office or home. We handle any kind of job, whether small or big, plus anything that is in between. Here is a list of the most popular services that you will get from our esteemed clients.
Delivery of Convenient and Affordable Disposal Solutions
You will never come across two junk removal jobs that are the same. Our company offers transparent and honest pricing for all your junk removal projects.
Our team provides a free and no obligation estimate that is based on the volume of the junk and the amount that it will occupy on the truck at the beginning of the job. When you hire LA Movers, you can rest easy because we will not begin the work until we give you an accurate cost calculation.
LA Movers provides a full range of junk removal and office furniture removal servers as well as removal and recycling of cubicles and modular systems. We work in conjunction with several companies that specialize in recycling a wide range of materials/equipment.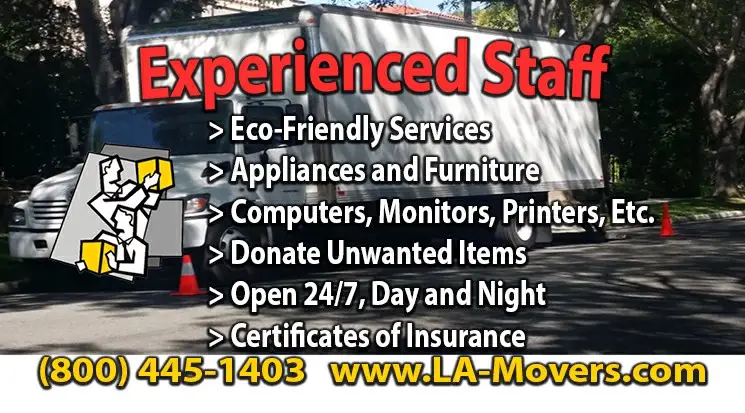 1. Book in With Our Highly Experienced Team
You can either fill out our contact form or just give us a call because we are available 24/7. After organizing for the day and time that suits your needs best, our junk pickup near me will arrive in good time. The team will take away all the junk that needs hauling. The crew will do all the heavy lifting and help in detaching the cabinets and drawers from the walls or their fixtures. Currently, we are the quickest and easiest waste removal company in Los Angeles.
2. Cleanup
Once we are done with the removal of the rubbish, we will sweep and clean the space so that it is ready and you can enjoy using it. What this implies is that you can use that space right away. It also makes sure that the environment is safe for you and any other person who would like to use it.
You should not go for a company that leaves behind all the messes. As a responsible company, we will take good care of your space and leave it in an orderly manner.
3. Environmental Disposal
Our team has a good understanding of the regulations that govern waste collection and disposal. Examples include plasterboard recycling, office rubbish, furniture, or scrap metal. Whatever junk that you have, our experts will rely on the right processing facilities to either dispose, recycle, or dismantle it correctly.
We take environmentally and ethically friendly approaches in disposing of plastics, e-wastes, and cabling. As a customer, it is good to confirm this information before trusting a moving company with your task. Ethical rubbish disposal and a professional team reduce the impact that this exercise has on the environment. It will also help you to prevent penalties and fines that come due to improper garbage disposal.
At LA Movers, we understand that junk removal can be a time-consuming and overwhelming task. That's why we offer comprehensive junk removal services to make the process easier for you. Here are some of the services we offer:
Full-Service Junk Removal: Our team of professionals will handle all aspects of your junk removal, from loading to disposal. We'll ensure that your unwanted items are properly disposed of, recycled, or donated.
Construction Debris Removal: If you're renovating your home, we can help you get rid of construction debris, including drywall, flooring, and other materials.
Electronic Waste Removal: We can help you safely dispose of electronic waste, including computers, printers, and other electronics.
Furniture Removal: If you're looking to get rid of old furniture, we can help. Our team of professionals will safely remove your furniture and ensure it is properly disposed of.
Yard Waste Removal: We can help you get rid of yard waste, including leaves, branches, and other debris.
Tips for Successful Junk Removal
Here are some tips to help you get started with your junk removal:
Sort Your Items: Before you begin your junk removal, sort your items into categories. This will make it easier to determine what items can be donated, recycled, or disposed of.
Start Small: Begin by tackling a small area or room. This will give you a sense of accomplishment and motivation to continue.
Use High-Quality Packing Materials: When packing items for disposal, use high-quality packing materials to ensure they are not damaged during transport.
Consider Donation: Consider donating items that are in good condition to charity. This is a great way to give back to your community and reduce waste.
Hire Professionals: If you have a large amount of junk or items that are difficult to dispose of, consider hiring a professional junk removal company like LA Movers. Our team of professionals has the expertise and equipment to handle any type of junk removal job.
At LA Movers, we pride ourselves on providing reliable, affordable, and professional junk removal services. Our team of professionals is dedicated to providing the highest level of customer service and ensuring your satisfaction. We understand that every junk removal job is unique, which is why we offer customized solutions to meet your specific needs.
Customer Service: At LA Movers, we pride ourselves on our excellent customer service. We're here to help you every step of the way, from planning your move to unpacking your furniture at your new location. Our team of professionals is dedicated to ensuring you have a stress-free and enjoyable moving experience.
Competitive Pricing: We offer competitive pricing for all our furniture removal services, ensuring you get the best possible value for your money. We understand that moving can be expensive, which is why we offer affordable pricing without compromising on the quality of our services.
Efficiency: Our team of professionals is highly efficient and experienced, ensuring your furniture is moved safely and quickly. We understand the importance of time when it comes to moving, which is why we work efficiently to get your furniture to your new location as soon as possible.
Safety: At LA Movers, we take safety seriously. We use high-quality packing materials to protect your furniture during transport, and our team of professionals is trained to handle all types of furniture safely and efficiently. We'll ensure your furniture arrives at your new location in the same condition it was in when we packed it.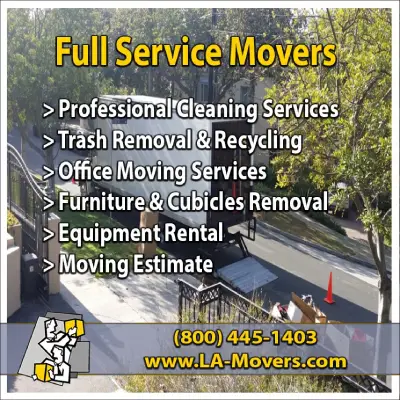 Junk Removal during Moving
LA Movers has professionally-trained teams who are trained and equipped to remove the unwanted items and help you dispose of them safely and properly. It will save you the hassles of having to arrange for dumpster rentals or hiring a different company. There is no need to hire the junk removal services separately when they can be in one package. You will find the whole process to be easier and cheaper for you.
LA movers will help you with furniture disposal as you renovate or downsize your office or home. We will also help you to remove unwanted items from the garage cleaning, business cleaning, or estate cleaning. This helps us to offer moving and hauling services for your business or office under one roof. It does not matter whether you are moving several items or just a few rooms. One thing that you can be sure of is that we will help you out.
Do you need to Donate Unwanted Items?
To start, call us today at (800) 445-1403 or email us at info@la-movers.com
Say goodbye to the clutter and give us a call!