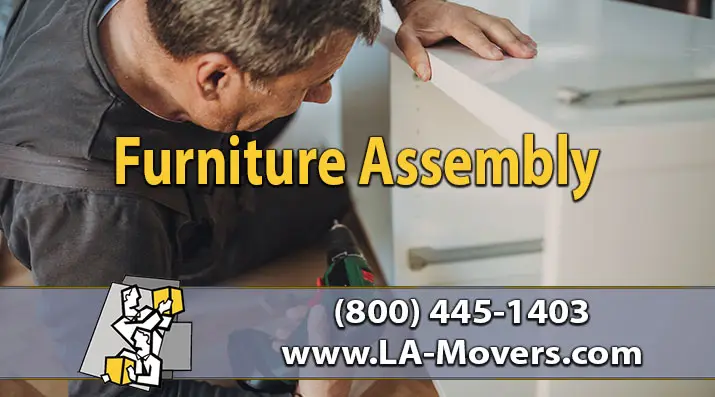 Expert Furniture Assembly In LA
Furniture Assembly Los Angeles – Everyone knows that some assembly needed implies lots of work. The furniture assembly experts will get your furniture pieces out of the box into your office or home. Therefore, you don't have to worry over the confusing instructions.
The directions for new furniture assemblies can be quite confusing and it can be a time consuming process especially if you are not a professional. We have furniture assembly professionals who will handle all your assembly needs right away.
LA Movers specializes in office furniture assembly in Los Angeles, San Bernardino, Riverside, Ventura and Orange County Areas.
Specifically assembly and dis-assembly, furniture receiving and shipping, relocation and reconfiguration of cubicles, office workstations, and large wall panel systems. We also service ready-to-assemble furniture, reception desks and meeting room tables. Choose the best furniture assembly service Los Angeles has to offer.
LA Movers office furniture installation technicians are experienced in the assembly procedures for a variety of high quality office cubicle and panel systems, ranging from the individual office to multiple office projects.
Thanks to years of training and experience, our staff is well versed in the assembly of a variety of office furniture systems from manufacturers such as Herman Miller, All Steel, Haworth, Gunlocke, Kimball, Steelcase, Knoll, Trendway and more. We also offer cubicle installation services for conventional and specialized furniture and equipment.
Our Furniture Assembly Services Los Angeles Include:
LA Movers works with a long list of furniture assembly experts who are located in Los Angeles. It is an established furniture assembly service Los Angeles that is full of innovative and progressive ideas.
Our assemblers are mature individuals who have a lot of hands-on experience especially working with wooden products. They comprise several cabinet makers and carpenters with over 10 years of experience in furniture installation and assembly.
Therefore, you can be sure that you are in safe hands once you hire LA Movers for your work. We can install and assemble furniture from IKEA, Mothercare, Tesco, Argos, Homebase, Dreams, Habitat, and John Lewis among others.
When you get in touch with us, we will contact some of our Team members who have the right expertise to handle your work to come to your doorsteps. The team will arrive in good time including after-work hours and on weekends. We are a furniture assembly company that you can trust all the time. We guarantee you high quality services at the most affordable rates within the region.
If you would like to assemble your furniture or the instructions seem to be quite perplexing, we have a team that will help you out. Our professionals will come to your office or home office or home and assemble your furniture pieces efficiently and quickly. Avoid the headache of trying to do this work on your own. We have professionals who will carry this burden on your behalf.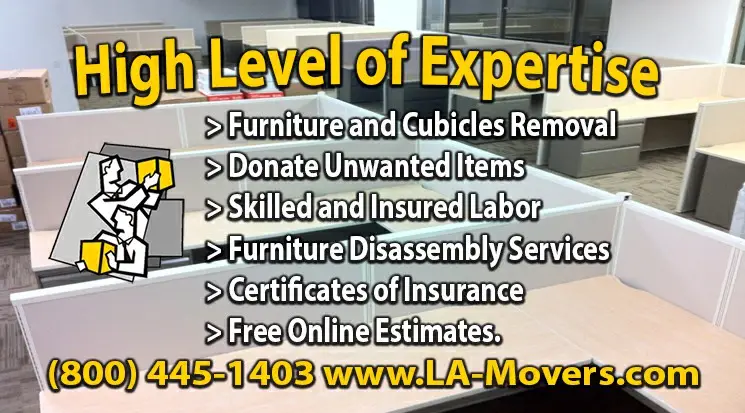 Highly Efficient Furniture Installation Services
We set up any modern furniture pieces in your home or office within no time. Does the instructions' manual for your new furniture appear to be confusing? There is no need to start playing guessing games. Just drop the components that you are holding and give our handymen a call.
The company has a team of reliable and swift specialists who will assemble the furniture in accordance with the manufacturers' instructions and the safety regulations.
Whether you need computer furniture for your home use or elegant presidential chairs for your office, we have an assembly team that you can always count on for this job. It will take us the least time possible to do this work at the most affordable rate.
Furniture Types That We Assemble
Our fantastic handymen can assemble anything that you have decided to buy for your home or office. We have experienced and knowledgeable teams who can assemble some comfortable sofas in your office or fancy sectional seating. These furniture specialists will also assist you with;
If you wish to create a cozy atmosphere for your office or home, we can assemble various materials such as cabinets, hutches, and buffets in the most strategic locations. If you prefer to go for a more Victorian look, we will supply you with a variety of unique desks, nightstands, chests, antique-style dressers, and so forth for office use. However, the list does not end here because we can help you to mount some of these items;
If you have been renovating your furniture, our specialists will help you to assemble your new bathroom furniture. We deal in all types of furniture for both the office and home. There is no furniture piece that is outside our scope of service delivery.
The team can help you to mount your plasma TV on the wall of your living room. We can work on all forms of furniture pieces. If you are planning to furnish your nursery, we will help you to put together the children's beds, toddler beds, and cod beds. Our professionals have the capacity to work on any type of furniture assembly projects. The regions that we serve include Riverside, Los Angeles, San Bernardino, Ventura, and Orange Counties.
Also, LA Movers provides Shelving Moving and Pallet Racking Installation services. To start, call us at (800) 445-1403 or email us at info@la-movers.com.
You can be sure of getting high-quality furniture assembly services at the most affordable rates in the region.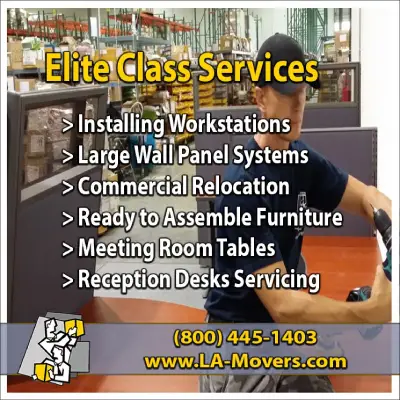 Have a things to be done?